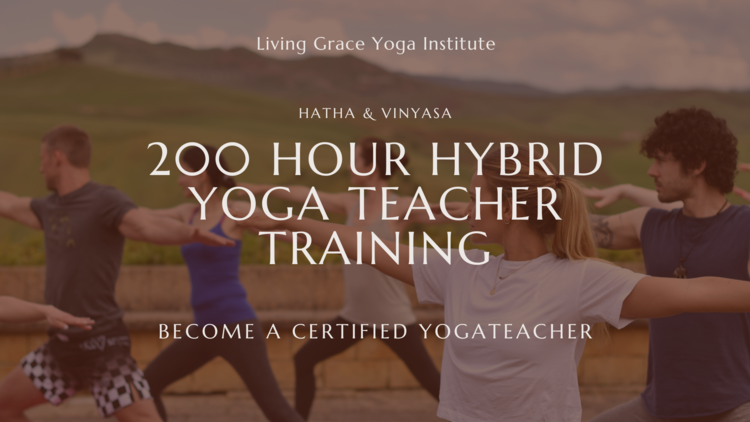 200-Hour Hybrid Yoga Teacher Training: Online and in Sicily
Become a Yoga Alliance certified Yoga Teacher in only 4 months.
January 26th - June 8th, 2024  / Online and in Sicily, Italy

Receive all details, special offers and updates about the training.
Go on an immersive journey that will transform your relationship with yoga, your body, and your life. Whether you're aspiring to become a certified yoga teacher or seeking to deepen your practice, this comprehensive program will guide you through the rich tapestry of yoga philosophy, practice, and teaching.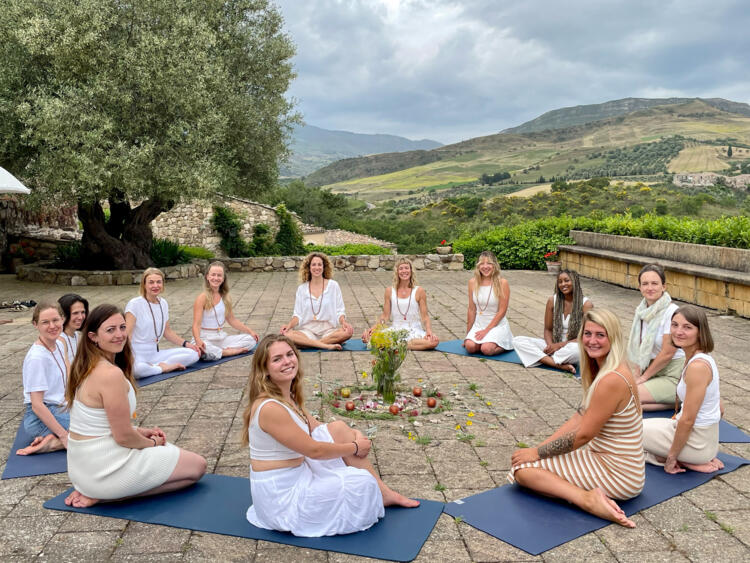 Program Highlights
Comprehensive Education: Our training covers all facets of yoga, including philosophy, history, lifestyle, asana practice, sequencing, pranayama, meditation, and business of yoga.

Self-Discovery: Embark on a profound journey of self-discovery, connecting with like-hearted individuals in a loving community. Even if your goal isn't to teach, this training offers an unforgettable personal experience.

Respect for Tradition: Immerse yourself in the roots and tradition of yoga with insights from a guest teacher from India, who will share the history and culture of yoga while emphasizing respectful teaching practices.

Anatomical Expertise: Gain a comprehensive understanding of anatomy to ensure you're equipped to teach safe and effective classes. Learn about the major muscles, joints, bones, and how to adapt and modify poses.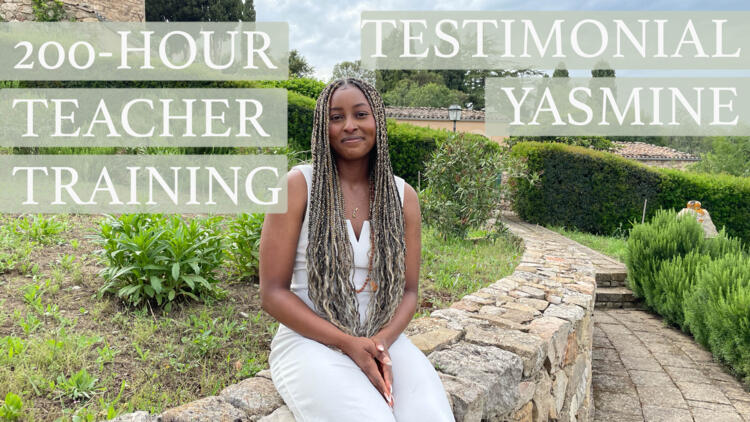 Teaching and Business Skills: Acquire the skills to lead classes, workshops, and build a successful yoga teaching business. From sequencing to marketing, we've got you covered.

Flexible Learning: Our hybrid approach lets you balance your training with your everyday life. Attend online seminars and masterclasses, access recorded asana classes, and join study groups to deepen your understanding.

Personal Connection: With a limited number of participants, we foster personal connections between teachers and students, creating a supportive and intimate learning environment. This is a very personal course, where you'll have direct live contact with your teachers and classmates, fostering deep connections and a transformative experience.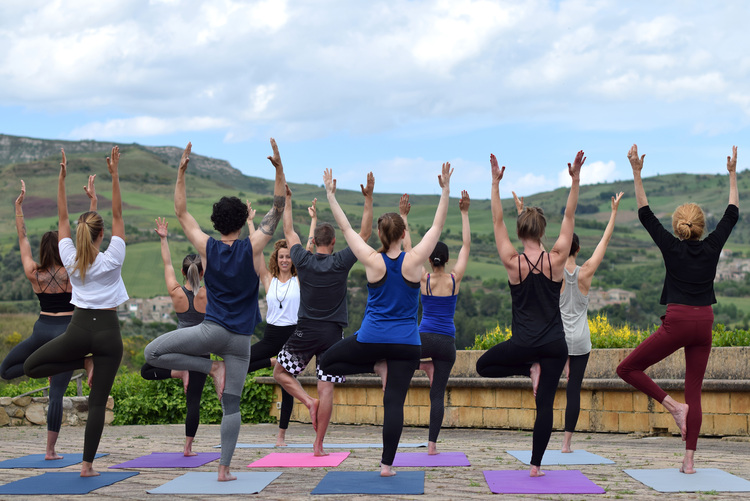 Curriculum Overview
I. Asana, Pranayama, and Meditation: Explore a diverse range of yoga poses, alignment principles, pranayama techniques, and meditation methods, including chanting, Mudras, and Mantras. Dive into the subtle body with Chakras, Koshas, and Vayus.

II. Anatomy and Physiology: Understand the human body's major muscles, joints, and bones and how they relate to asana practice. Learn how body systems function and how to safely adapt poses.

III. History and Philosophy: Delve into the history of yoga, from Vedic times to the modern era. Familiarize yourself with key yogic texts like Patanjali Yoga Sutra, Bhagavad Gita, and Hatha Yoga Pradipika, connecting philosophy to practice.

IV. Teaching and Business Skills: Master teaching methodology, class sequencing, and business strategies to kickstart your career as a yoga teacher.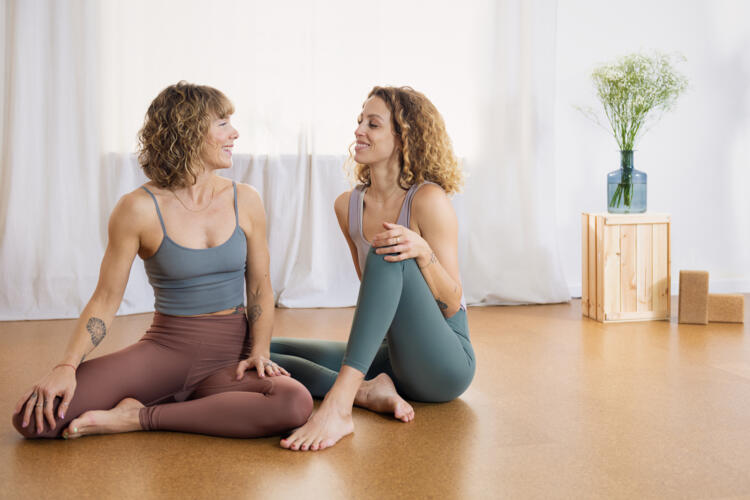 Your Teachers
Inanna Fronius (E-RYT 500+)
Co-Founder and Head Teacher - Asana, Pranayama, Meditation, Philosophy
A passionate and experienced full-time yoga teacher, sharing the versatility and richness of Hatha and Vinyasa yoga with her students. Her love for yoga has led her around the world, and she is dedicated to supporting others on their unique paths.

Jenny Hirtz (E-RYT 500+)
Co-Founder and Head Teacher - Asana, Pranayama, Meditation, Philosophy
A certified yoga teacher based in Berlin with a profound Hatha and Vinyasa yoga practice rooted in the present moment. She believes that yoga is a portal to intuition and inner wisdom, leading to holistic well-being.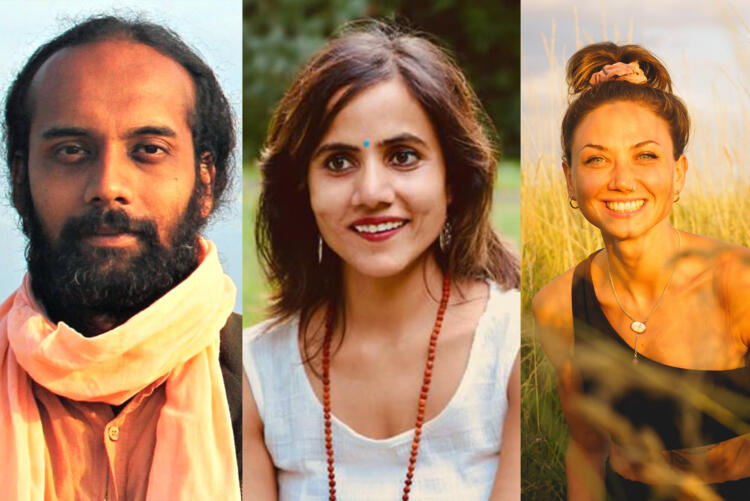 Prasad Rangnekar (History & Philosophy)
With 37 years of Hatha and Vinyasa yoga practice, Prasad is a transformation guide using yogic methods. He's invited to speak globally and conducts teacher training, sharing his deep knowledge and insights.
Sabeth Glasmeyer (Anatomy & Physiology)
A doctor and psychotherapist, Sabeth combines her Western anatomical understanding with spirituality to nourish physical and mental well-being.

Neha Puglia (Mantra)
Neha is a compassionate Yoga and Ayurveda therapist and energy healer dedicated to empowering individuals through Hatha and Vinyasa yoga, mantras, and meditation.

Learn more about your teachers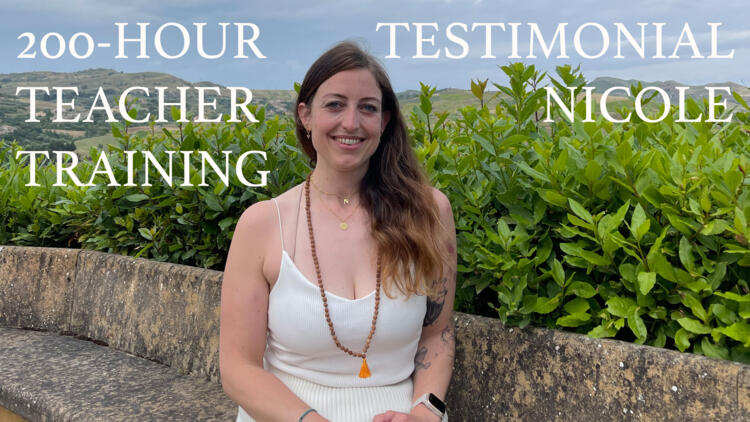 Dates, Times and Details
This training includes
5 intensive online seminars (2- and 3-day blocks on weekends)
5 online masterclasses including Q&A (on Saturdays)
One week in person intensive training in Sicily, Italy
The training is held in English  language.

Dates
Online seminars (blocks): 26 – 28.01., 24 – 25.02., 22 – 24.03., 27 – 28.04., 17 – 19.05.
Online classes (incl. Q&A): 10.02., 09.03., 06.04., 04.05., 11.05.
1-Week intensive in Italy: 01 – 08.6.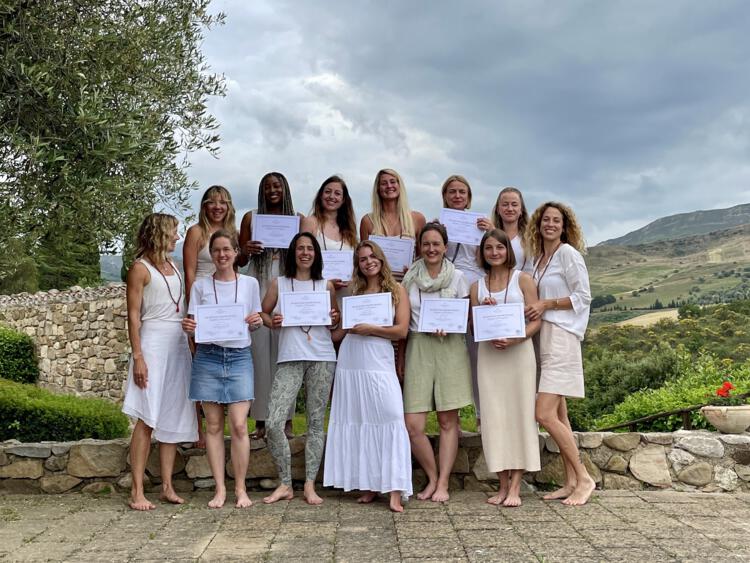 Times (all times CET)
Online seminars (blocks)
Fridays:      16.00 – 19:00
Saturdays: 09:00 – 18:00
Sundays:    09:00 – 16:00

Online classes
Saturdays: 09:00 – 11.30

Intensive week Sicily (Example schedule, subject to changes)
06:30 - 07:00 Pranyama and Meditation
07:00 - 09:00 Morning practice
09:00 - 10:30 Breakfast
10:30 - 13:00 Lectures/Workshops
13:00 - 15:00 Lunch Break
15:00 - 16:30 Lectures/Workshops
16:45 - 18:00 Teaching Practice
18:00 - 19:00 Dinner
19:00 - 20.00 Satsang, Meditation, Q&A or free time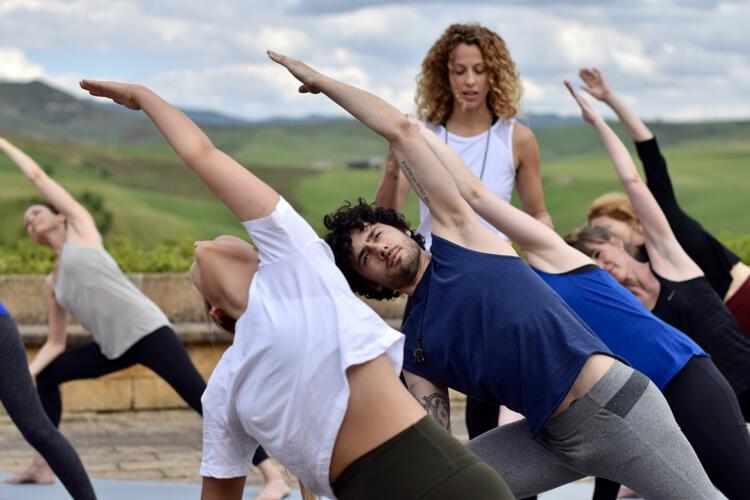 Investment

Early Bird 3590,- Euro until 27.08.2023 /  Regular 3890,- Euro
Including accommodation in a double room and board in Italy.

Book via email

You can also book yourself in for a free video call here
What is included
200-Hour Certificate by the International Yoga Alliance
Extensive Teacher Training Manual (hard copy)
5 Online Seminars + 5 Online Master classes
Week Intensive Training in Sicily
Accommodation in a double room and board in Sicily
What is not included
Travel to and from the Training Location Sicily (Airport Catania or Palermo). We will happily assist you in your traveling planning!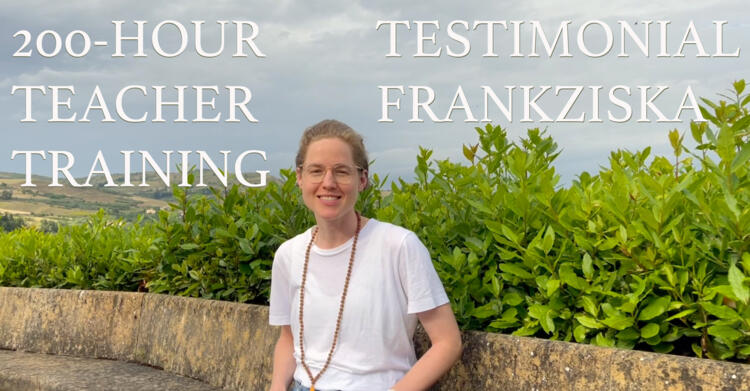 Payment plans

We offer flexible payment options to suit your financial needs.


Diversity & Inclusion

We are committed to promoting diversity and inclusion in the yoga community and making it accessible to all. Partial scholarships are available for individuals from less fortunate and underrepresented groups. Please reach out via hello@living-grace-yoga-institute.com.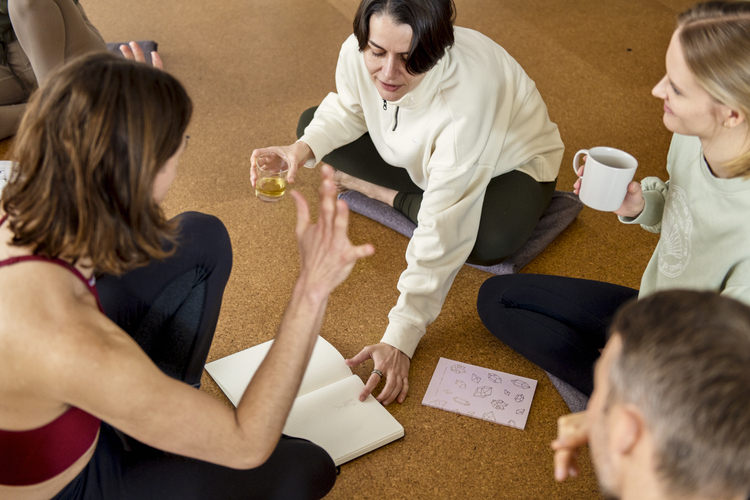 Advantages of Online and Offline Training:
Flexibility to Suit Your Lifestyle: Easily balance your work and family commitments while pursuing your education.

Enhanced Learning Experience: Deepen your learning over an extended period. Absorb new skills and knowledge at your own pace, leading to a deeper understanding of the subject matter.

Interactive Learning Opportunities: Interactive Q&A sessions and study groups foster engagement and collaboration with both instructors and fellow students.

Unlimited Practice Resources: Access recorded asana classes to practice at your convenience, reinforcing your skills and helping you progress steadily.

Building Lasting Relationships: Develop enduring connections to your teachers and to a broad network of individuals who share your passion for learning and personal growth.

Global Access: Online training transcends geographical boundaries, allowing you to connect with instructors and peers from around the world. Teach everywhere in the world with your new international certification.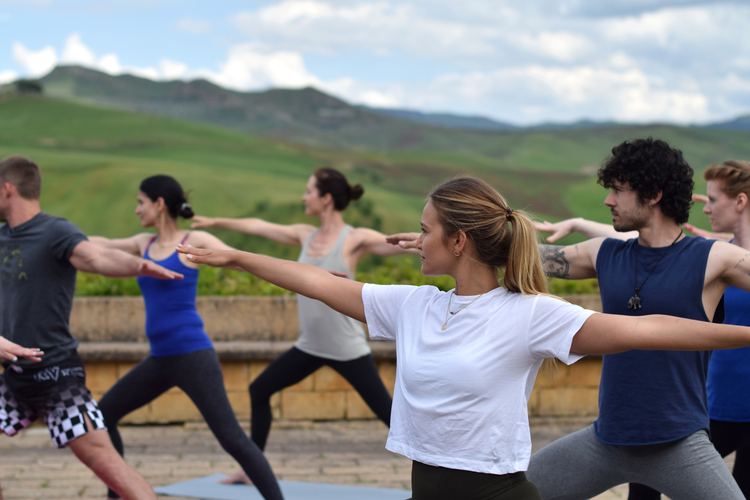 Booking and cancelation policies
Booking

With the registration a non-refundable deposit of EUR 500 is due. The remaining amount is to be paid by 27.11.2023
Installment payment available on request.
The course limited to 18 participants. It is important to us that we can respond to each person individually and create a personal connection.
Cancellation
Two months before the start of the training: Refund 30% of the price
One month before the start of the training: Refund 10 % of the price
Within one month before start of training: No refund
Frequently asked questions
What Sets This Teacher Training Apart?
Our program stands out with its hybrid format, combining flexible online learning with invaluable in-person experiences. We prioritize holistic education, covering yoga's physical aspects, philosophy, and the art of teaching.
How Does the Hybrid Format Work?
Our program offers a flexible, balanced approach. We meet live online once a month via Zoom for immersive sessions covering yoga asana, philosophy, history, anatomy, and more. Additionally, there's a monthly live online masterclass. The training concludes with one week in Sicily, Italy, where you'll practice, receive guidance, and take your final exams. It's a transformative blend of online and in-person learning.
Am I Eligible to Enroll?
This foundational training welcomes all levels, including beginners. Prior yoga experience is helpful but not mandatory. We're committed to guiding your yoga journey, regardless of your starting point.
What Will I Learn?
Our curriculum covers yoga philosophy, anatomy, teaching methodology, asana practice, pranayama, meditation, and more. You'll gain a deep understanding of yoga's history and practical application in modern life.
Which Yoga Styles Does the Training Cover?
Our program offers a well-rounded, inclusive approach, blending Hatha and Vinyasa yoga styles. This combination explores Hatha's foundations while incorporating Vinyasa's fluidity, providing a comprehensive understanding of yoga's diverse practices.
Can I Expect Personal Support?
Absolutely! We prioritize individualized attention in a supportive, intimate learning environment, with limited participants.
Will There Be Exams?
Yes, there will be both written and practical exams. The written exam assesses theoretical knowledge, while the practical exam evaluates your teaching skills in a real-world setting. We will guide you towards and prepare you along the way, so there is nothing to worry about!
What Certification Will I Receive?
Upon completion, you'll earn a 200-hour Yoga Teacher Training certification (R-YT 200) recognized by Yoga Alliance, launching your yoga teaching journey.
Do You Offer Payment Plans?
Yes, we offer payment plans and partial scholarships to accommodate financial needs. Just email us to enquire!
How Can I Sign Up/Apply?
To start your transformative journey, email us at hello@living-grace-yoga-institute.com to book your spot or request a free clarity call to connect and get answers to your questions.