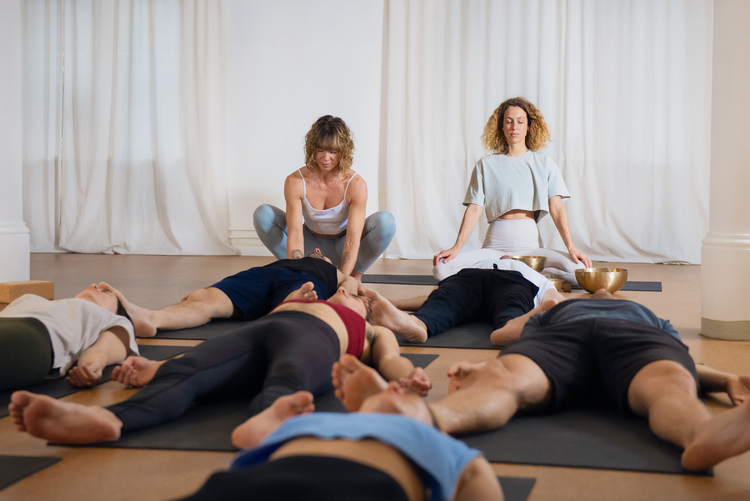 Nourish Your Essence Yoga & Meditation Retreat
April 18th - 21st, 2024, Brandenburg Germany

Gift yourself some time away and join us for 4 days to recharge and replenish at the beautiful Breitenteicher Mühle. Only one hour away from Berlin, surrounded by a nature reserve, we have time and space to dive deeper into our yoga practice. 
You will be guided by two experienced, passionate yoga teachers and can look forward to a carefully selected mix of dynamic Vinyasa and gentle Yin Yoga, meditations, guided relaxation, breath work and ceremonies that leave you feeling clear, calm and connected. 
The retreat is open to all yoga levels and will be held in English (unless ALL participants speak German).
The Program
The program starts on Thursday April 18th at 5.30pm with the first yoga session (arrival possible from 3.00pm) and ends after lunch on Sunday April 21st at 3.00pm.

We start every morning with yogic breath work that cleanses the body on the physical and energetic level and awakens our spirits. After breakfast we then flow through dynamic Vinyasa Yoga sequences that strengthen the body and leave us feeling energized and balanced. We build the sequences step-by-step learning about the alignment that allows the energies in our body to flow freely and release great healing potential.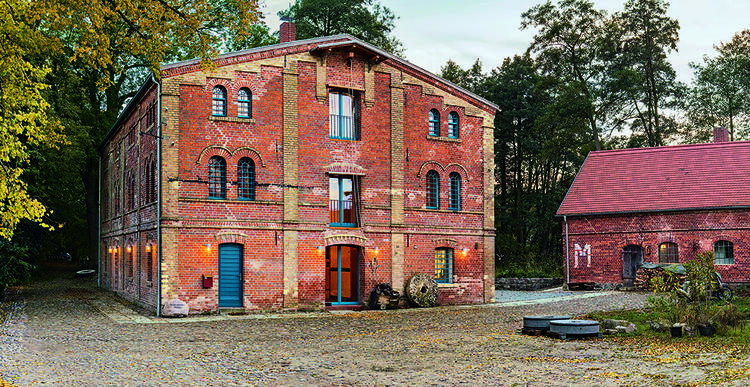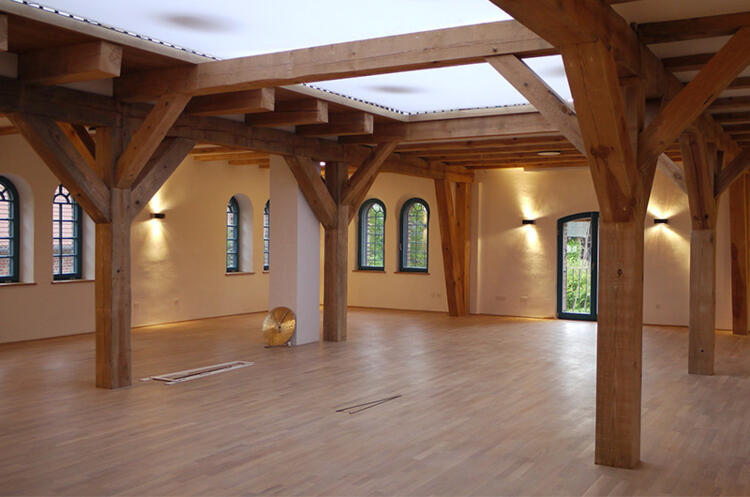 We focus on different areas of the body, the respective energy centers and the aspects of our live they relate to, exploring the connection between the body and the mind. In the afternoon we take our practice further in workshops to understand Asana (posture) and their effect on the muscular and endocrine system, but also on emotions and mental wellbeing (Hatha Yoga).

We will indulge in the healing practices of soothing Yin Yoga for deep tissue release and dive deep into guided meditation (Yoga Nidra). In special sittings and ceremonies we meditate with different techniques, surrounded by candlelight or accompanied by the sound of Mantra.

Classes are held in English unless all the participants speak German.
The Place
The Breitenteicher Mühle is located in a nature reserve next to the biosphere reserve Schorfheide-Chorin, 90 km north of Berlin. A holistic approach played a decisive role in the planning and conversion of the historic mill into a retreat center. The mill building was restored under consideration of the protection of historical monuments using regionally usual ecological building materials. Green electricity is generated by the water power of the river Welse using a water wheel with generator. The farm's own water supply and ecological wastewater treatment ensure that it can also exist independently of other suppliers. Overall, the property has a positive energy balance.

The seminar house in the water mill is a home for seminars which are dedicated to personal development and growth and a place of concentration and positive mind and body work.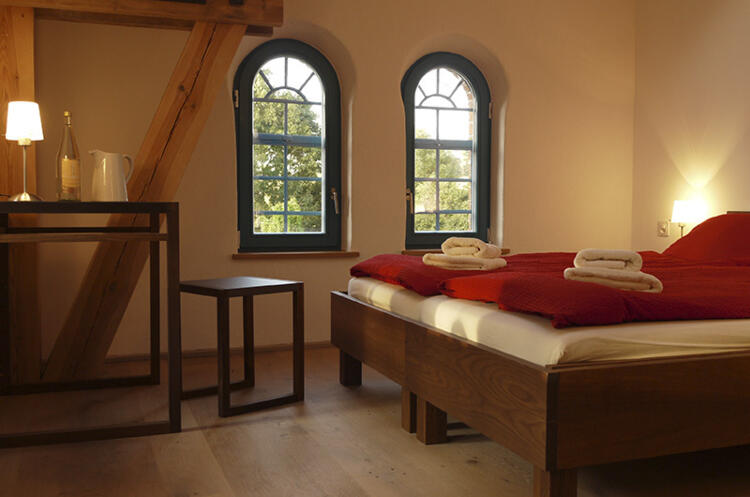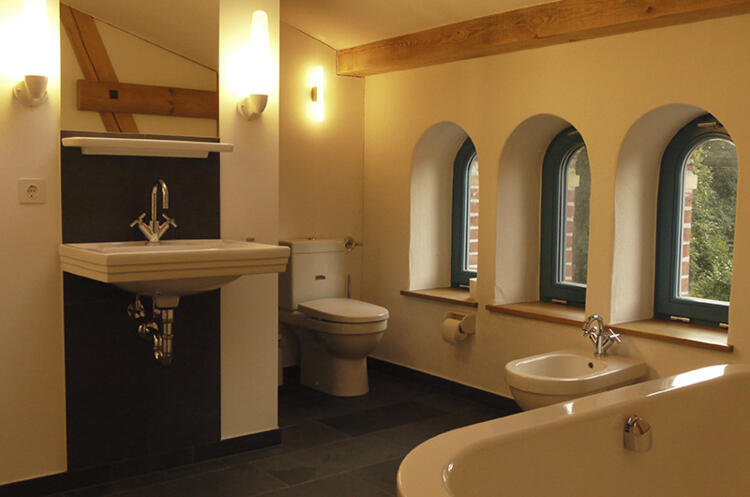 The Accommodation
The Breitenteicher Mühle consists of two lovingly renovated buildings: the large old mill and the former smaller miller´s house. The old mill contains six double rooms and three bathrooms, so two double rooms are sharing one bathroom. In the miller´s house you can find more double rooms as well as one large double room with a private bathroom and  a very spacious shared room with four beds with its own bathroom.

With a cozy ambience, perfectly restored bathrooms and beautifully furnished rooms the traditional architecture is combined with a sophisticated interior design. All the rooms have single beds which can be put together for couples.
The Food
Our retreat includes full board breakfast, lunch and dinner. Throughout the retreat the kitchen prepares homemade vegetarian and vegan organic food, mainly using regional products. The fruit and berry garden with beekeeping as well as a vegetable garden make a self-sufficiency possible to a limited extent.

We accommodate all nutritional preferences, please inform us upon booking about any allergies.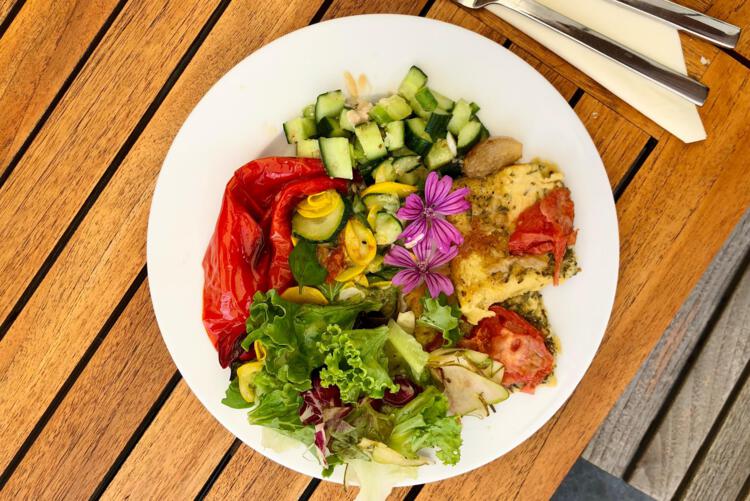 How to get there
By train:

There is an hourly regional train from Berlin Central Station directly to Angermünde without changing trains. The journey time is approx. 55 min. From there you can take a taxi (costs approx. 20 Euro) or by prior arrangement on collection by us (costs 5-10 Euro depending on number of people). Please let us know when you will arrive upon booking and we will happily organize your transfer.

By car:

Seminarhaus Breitenteicher Mühle
Breitenteicher Mühle 2
16278 Frauenhagen
OT von Angermünde

Please ask us for a detailed map. You can park your car 150 meters from the retreat center.
Prices
Early Bird Multi Bed 550€ / Regular Multi Bed 590€ (all-gender or female only)
Early Bird Twin Room  590€ / Regular Twin Room 630€
Few Single Rooms available on request

Early Bird runs until 31.12.23
What is included in the price: 
Yoga Program: 
1x 90 minute gentle flow yoga and mediation (arrival evening) 
3x 90 minute morning yoga: dynamic flow 
3x 45 minute early morning breathwork + meditation 
2x 90 min afternoon yoga: workshop, yin yoga & yoga nidra 
3 nights accommodation
3 healthy organic vegan / vegetarian meals per day (breakfast/lunch/dinner)
Sauna
Yoga mats + props 
Bedsheets and towels 
What is not included: 
Travel to Angermünde
Shuttle from Angermünde train station (5-20€ pp/way)
Booking and cancellation policy
To reserve your spot you need to pay 50% of the retreat price. The remaining amount can be paid in a second installment if you wish (to be paid until February 2nd).

Cancellation up to 5 weeks before the start of retreat: Cancellation fee 150€ 
Cancellation up to 3 weeks before the start of the retreat: Refund 50% of the price
Cancellation less than 3 weeks before start of the retreat: No refund

If you provide a cover in case you are unable to come, there will be no cancellation fee. 

We highly recommend that you get a cancellation insurance that will reimburse you the full amount in case you get sick and cannot attend the retreat.