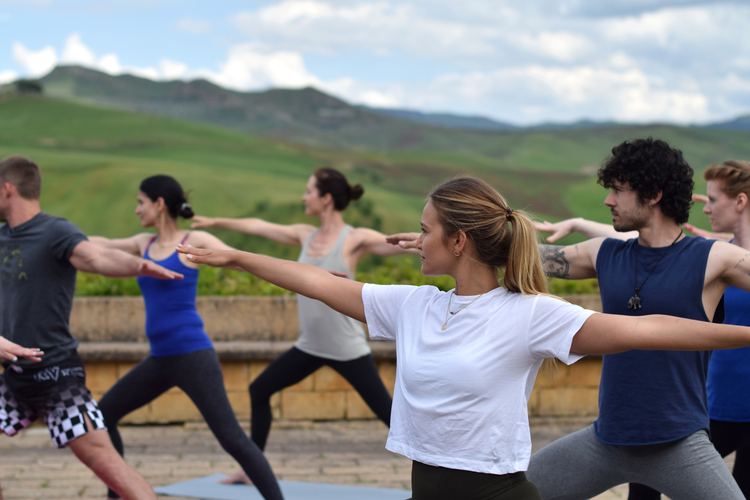 200 Hour Hatha & Vinyasa Yoga Teacher Training (Online & Offline)
January 27th - June 10th, 2023 - Online and Sicily, Italy
This hybrid 200 Hour Yoga Teacher Training offers a comprehensive education covering all aspects of yoga: philosophy and history of yoga, yogic lifestyle, asana poses and practice (physically and energetically), sequencing of yoga classes, pranayama, meditation as well as valuable insights on the business of yoga.

This training enables you to
learn about all aspects and the essence of yoga
explore and deepen your own yoga and meditation practice
create and lead your own classes and workshop
build a business as a yoga teacher
We will take you onto a beautiful journey with the goal of getting to know yourself better. Thus, even if you are not looking to teach but rather to improve your own practice and learn for yourself, this training will provide you with an unforgettable experience and connect you with like-hearted people in a loving community.

It is important to us to pay respect to the roots and tradition of yoga and we have invited a guest teacher from India giving us insight in the history and culture of yoga, and sharing how we can teach yoga in a respectful way. We also want to make sure our trainees are fit for teaching classes after the training and work as yoga teachers, if they wish to. Therefore we also include elaborate anatomical training in the program.

Please read the info below and feel free to reach out with any questions. If you are interested in booking the retreat, we can schedule a video call, to solve any remaining questions. Email us anytime to hello@living-grace-yoga-institute.com.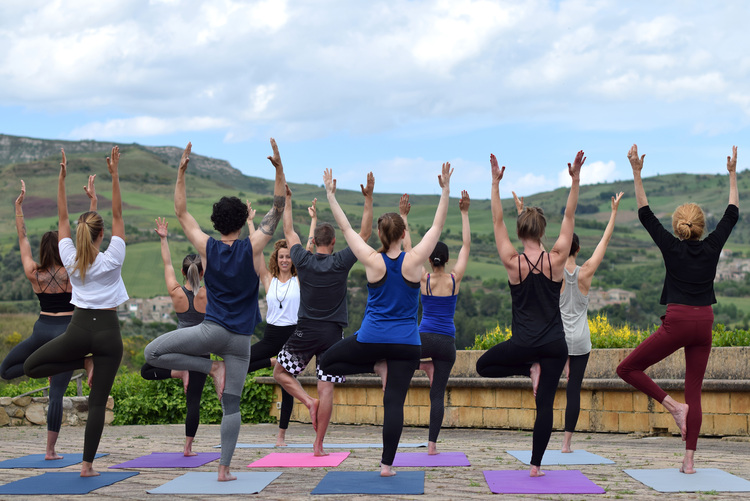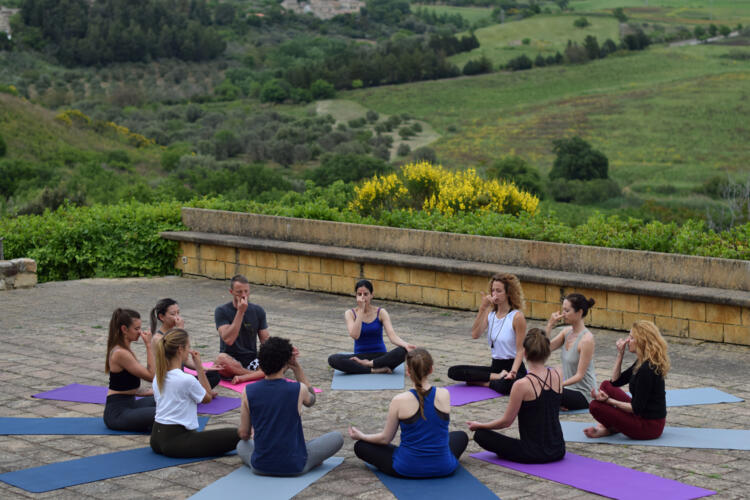 Contents of the training
1) Asana, Pranayama and Meditation

The largest part of the training is practice, lead as well a your own where you apply what you learned.
Asana: you will learn a great variety of yoga poses from all pose categories and their alignment principles
Pranayama: different techniques and their effects on the physical and the energetic body 
Meditation: various methods including chanting, Mudras and Mantras 
Subtle Body: the Chakras, Koshas and Vayus
2) Anatomy and Physiology 
All major muscles, joints and bones of the human body and how they are involved in asana 
How the systems of the body function 
How to safely use the joints during asana, how to adapt and modify
3) History and philosophy 
The key terms and dates of yoga history from Vedic to modern times 
Get familiar with the major yogic texts such as Patanjali Yoga Sutra, Bhagavad Gita and Hatha Yoga Pradipika
Reflect and explore how yoga Philosophy relates to practice and to our daily lives 
4) How to teach and how to build a business 
Teaching methodology: such as how to sequence, cue and pace a yoga class 
Working as a yoga teacher: How to create different classes, workshops, retreats or other offers
Promotion and marketing: how to start building a business as a yoga teacher
 
After this training you will be able to offer your own online and offline classes and teach groups of different levels.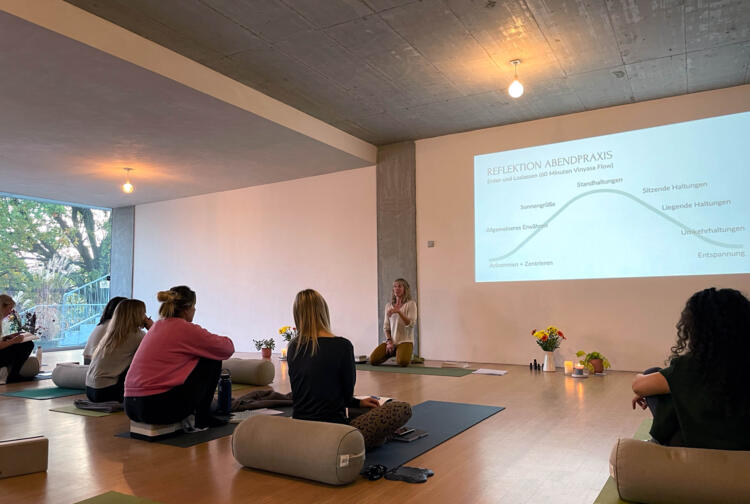 Dates, Times and Details
This training includes five intensive online seminars (2- and 3-day blocks on weekends), five online masterclasses including Q&A (on Saturdays) and one week in person intensive training in Sicily, Italy. The training is held in English  language.

Dates
Online seminars (blocks): 27 – 29.01., 25 – 26.02., 24 – 26.03., 22 – 23.04., 19 – 21.05.
Online classes (incl. Q&A): 11.02., 11.03., 08.04., 29.05., 06.05.
1-Week intensive in Italy: 03 – 10.6.

Times (all times CET)
Online seminars (blocks)
Fridays:      16.00 – 19:00
Saturdays: 09:00 – 18:00
Sundays:    09:00 – 16:00

Online classes
Saturdays: 09:00 – 11.30

Intensive week Sicily
Example schedule (subject to changes)
06:30 - 07:00 Pranyama and Meditation
07:00 - 09:00 Morning practice
09:00 - 10:30 Breakfast
10:30 - 13:00 Lectures/Workshops
13:00 - 15:00 Lunch Break
15:00 - 16:30 Lectures/Workshops
16:45 - 18:00 Teaching Practice
18:00 - 19:00 Dinner
19:00 - 20.00 Satsang, Meditation, Q&A or free time
Benefits of online & off-line training
You don't need to take four weeks off work and can attend the training alongside your job/family life
You have enough time to practice and deeply integrate, absorb and process what you have learned
We achieve great learning effects with regular Q&A in our online segments and study groups
All asana classes are recorded, you can repeat them as many times as you wish
We build long lasting relationships between teachers and students and students witch each other
Investment

Early Bird 3590,- Euro until 27.08.2022
Regular 3890,- Euro
Including accommodation in a double room and board in Italy.

BOOK VIA EMAIL

What is included
200HR Certificate by the International Yoga Alliance
Extensive Teacher Training Manual (hard copy)
5 Online Seminars + 5 Online Master classes
Week Intensive Training in Sicily
Accommodation in a double room and board in Sicily
What is not included
Travel to and from the Training Location Sicily (Airport Catania or Palermo)
We will happily assist you in your traveling planning!
Booking and cancelation policies

With the registration a non-refundable deposit of EUR 500 is due. The remaining amount is to be paid by 27.11.2022
Installment payment available on request.
The course limited to 18 participants. It is important to us that we can respond to each person individually and create a personal connection.
Cancellation
Two months before the start of the training: Refund 30% of the price
One month before the start of the training: Refund 10 % of the price
Within one month before start of training: No refund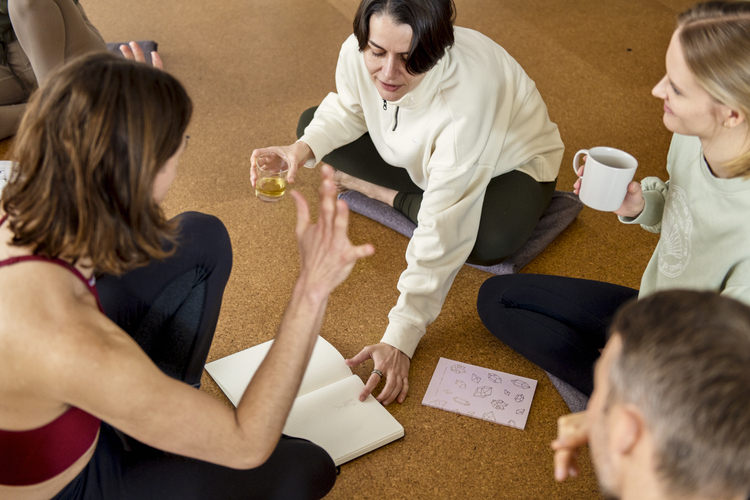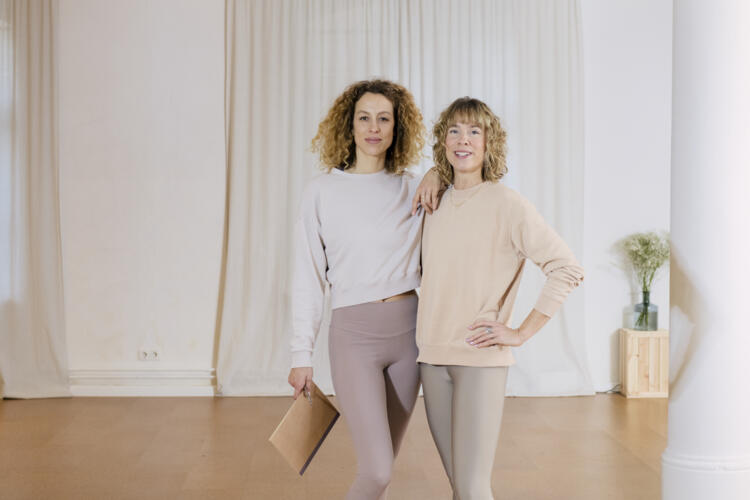 Your teachers
Inanna Fronius (E-RYT 500+)
Co-Founder and Head Teacher
Asana, Pranayama, Meditation, Philosophy

Jenny Hirtz (E-RYT 500+)
Co-Founder and Head Teacher
Asana, Pranayama, Meditation, Philosophy

Dr Imelda Juniarsih
Guest Teacher Anatomy and Physiology

Prasad Rangnekar
Guest Teacher History, Philosophy, Cultural Aspects (1 Lecture)

Find out more about your teachers